I received a copy of Radical Together: Unleashing the People of God for the Purpose of God for review. I am not required to give a positive review but to only post my honest thoughts.
What's the Book About?
"Writing to everyone who desires to make an impact for God's glory—whether you are an involved member, a leader, or a pastor—Dr. Platt shares six foundational ideas that fuel radical obedience among Christians in the church. With compelling Bible teaching and inspiring stories from around the world, he will help you apply the revolutionary claims and commands of Christ in fresh, practical ways to your community of faith." (From the Publisher).
Who is David Platt?
"Dr. David Platt, 32, is deeply devoted to Christ and His Word. David's first love in ministry is disciple-making—the simple biblical model of teaching God's Word, mentoring others and sharing faith. He has traveled extensively to teach the Bible and church leaders throughout the United States and around the world. Atlanta natives, he and his wife, Heather, made their home in New Orleans until they were displaced by flooding following Hurricane Katrina in 2005 (more) …"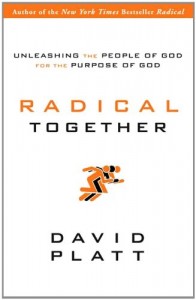 What I Liked
I love that David Platt is a Southern Baptist mega-church pastor who is completely opposite of to that caricature. For my north-eastern friends, I'm not sure we can possibly understand this but from my own limited experience (which includes getting married by a man affectionally called Brother Bob in a southern Baptist church … and then taking my new bride across the Mason Dixon line like I was in the General Lee being chased by Roscoe P Coltrane. Anyway, I digress … ;) I love what Platt is saying in light of his context.
I never reviewed his first book, Radical because I felt that it was dated in light of the Ron Siders, Shane Claibornes, Will Samsons, the Emergents, the Missionals and many others. But I did agree with the idea of abandoning the pursuit of the American Dream in light of pursuing the hope of the Kingdom of Jesus. These are excellent books for entry points to the missional church conversation.
This book may be even easier than Richard Stearn's The Hole In Our Gospel because it's only a third the size and very reader-friendly. I feel Multnomah said, "David, write a book for busy church people that never read but are interested in seeking God's purpose in the world."
I like how Radical Together confronts entitlement and encourages the reader to seek mission and community in Christ.
As with a few books I review, this too, would be an excellent small group resource (There's a discussion guide already included).
What I Wasn't Crazy About
I don't have much critical to say here. Though I would prefer something a bit more challenging, if I am being honest with myself, in my personal application, there's enough to be challenged by here. I think the Radical series is fulfilling its objective. As mentioned, it's a great entry point to the missional church conversation.
If you are looking to understand what some of the more progressive and younger evangelicals are talking about when it comes to social justice and Kingdom-living, this is a good place to start.