Just about once a week my wife asks me, "Did you see what Anne Lamott wrote on her Facebook page today?" It's either incredibly profound making me think, "It must be awesome being Anne" or a hilarious rant that makes me think, "Maybe it isn't that fun being her."
Couple weeks ago my wife and I went to see Anne with some good friends. Our wives are big fans and we thought this would be a fun night together. We were not disappointed and we had a great time discussing the night afterwards. This is a little of what we talked about.
If I can take a minute and describe the context.
The evening was to begin at 7 and the traffic was crazy. Nearly everyone was late arriving to the First Parish in Bedford, MA, including Anne. Had I not driven through backyards, cemeteries and small ponds, we might have been late too (I'm telling you my wife is a big fan). Our friends had saved us great seats and we had a few moments to take in the decor of the room which included quotes from Scripture and other spiritual maxims, an assortment of quilts and a disco ball above the pulpit. Nothing too out of the ordinary. I also noticed that out of the 200 people gathered, I was among 10, maybe 15 men. I was surprised that my wife and I were among the few people under the age of 40 in the room. Young people who appreciate Jesus but frustrated with organized religion would love Anne Lamott. (Worked for us :)
Anne finally arrived along with the hosting pastor and a few others. They literally got out of the car, walked in the door, on to the stage where the first thing Anne did was publicly take her coat off. Everyone applauded. Normally, I would tell you that people applauded that she was there but you never know with Anne and her admirers, taking off a coat could be a metaphor of the necessity of shedding the pain. I can hear someone explain it now, "Even though it has brought you warmth, the vulnerability and the community will not only keep you warmer but will also help you heal." Insert nodding heads and the "Hmmm's" of affirmation. It may sound strange but that just means you have never heard Anne speak in a room full of her friends.
The night began with a warm and sarcastic welcome from the pastor. I liked him immediately but then he said, "Please silence your cell phones and turn off your vibrators." I thought he misspoke and felt bad for him. He must not have been a youth pastor at any point of his career and never spent the years of delivering messages free of innuendo to young hormonally-charged minds. I felt bad for him until someone explained later, "No, you should have heard what he said him last time Anne was here. He did not misspeak, that was all very intended." Well, though it doesn't quite explain the disco ball, at least I know what I'm in for.
Following the pastor was a young woman sharing from the Amirah House which is an aftercare home for women who have escaped sex trafficking. Her story was powerful and sad and amazing. I admired her courage, not just for sharing but for escaping and for continuing to move forward with her life and faith. Absolutely love there are places like the Amirah House, glad that Anne gave proceeds to it from her ticket sales and was looking forward to the offering that would happen later.
Finally Anne made it to the mic and she began by giving us rules. Normally this would be a lesson of how not to begin a message, especially one that is beginning a half hour late and followed by an incredible story of liberation but what do I know? Anne told us that if you really want her to sign your book she will, but don't ask her to dedicate your name in it, it hurts her hand the next day and she gets "pissed" when she's asked. Also, someone will take your picture for you if you must have one of the two of us (ask the people behind her if that job has been assigned yet) and let's keep this moving. Insert longer than necessary but humorous story of last night of just about all these rules being broken and now we're ready to begin.
Truth be told, it was an interesting and fun night. Here are some of my notes and thoughts:
On writing her new book Stitches.
"I did not intend on writing it, it just came out."
Stitches began the day after Newtown tragedy. She started jotting to help her cope with this unspeakable tragedy but as she kept going, she found words that could be shared.
She also felt the burden that children and young people have today. "We need to tell our kids they're loved, called and safe" and quoted Mary Lopez, "When all is said and done, all we have are stories and compassion"
The metaphor of it is fairly obvious as we need stitches to close up our wounds. "We live stitch by stitch if we are lucky" but there's more to healing than simply being closed up. I'm looking forward to read her wisdom on it.
Soldiers in Vietnam needed to learn how to stitch. Otherwise their torn socks were going to create really tough days. She spoke about the community and conversation of women at her church stitching together. They stitch for their families, for each other, for people they don't know but they love stitching together.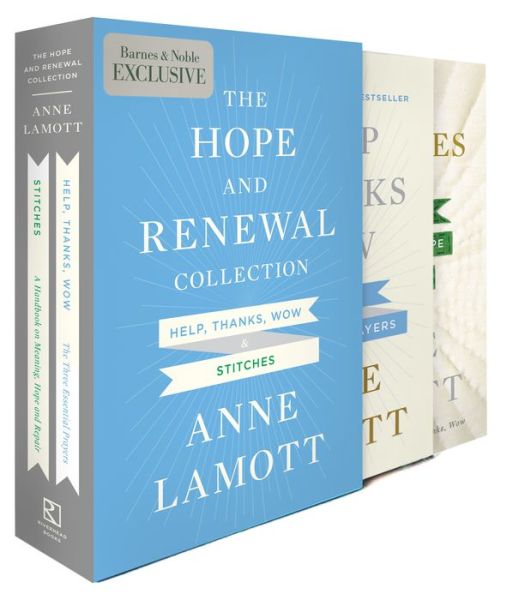 I have a part 2 posting soon on what I took away from the night and what I've been thinking about since. For the sake of preview, I think Anne is one of those "accidental pastors" that is shepherding more people that we realize.
Also, I just saw that Barnes and Noble has packaged her most recent two books Help, Thanks, Wow/Stitches as "The Hope and Renewal Collection." I have no incentive of promoting this, just passing it along in case you know someone who would like this gift.
Here's her Facebook page and you can follow her on Twitter here.