Having given up watching sitcoms (yep even Community), last night I watched Lebron's return to Cleveland. Even if you are not a sports fan you probably know the basics. LeBron James, an NBA superstar (2-time league MVP), became a free-agent this summer and signed with the Miami Heat to join forces with Dwayne Wade and Chris Bosh in hopes of winning an NBA Championship. To put it mildly, Cleveland did not take it too well.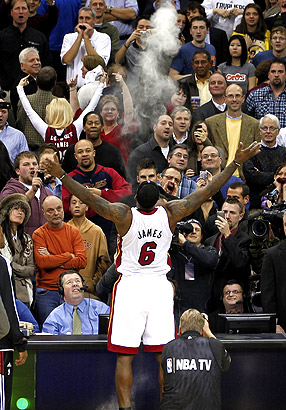 Some disclaimers here:
1. I am not a LeBron James fan, but I do think he is extremely entertaining and an amazing athlete (but he's not a winner like Kobe, or Michael or Magic or Larry).
2. I am not a LeBron-hater. I kinda hope he wins an NBA ring so Charles Barkley would shut up.
3. I am not a Barkley-hater but I do think he is extremely annoying though he is somewhat entertaining.
4. I don't have a favorite NBA Team, but I admit, I do follow some of the story lines.
5. If David Stearn shut down the NBA tomorrow, I'd be ok.
I was on our mission trip to New Orleans when "LeBron decided to take his talents to South Beach" (still one of my favorite lines. I await the day when I hear a "John Piper type" say, "God has foreordained me to take my talents to San Diego"). Anyway, I was among those that were surprised. I really thought he had allowed all that hype to make his return to Cleveland more dramatic. I only feel that way because of how I want great sports legends to be told but he has every right to weigh his options to pursue his desired goal(s).  For the record, I was also wrong about Zach and Kelly breaking up on Saved By the Bell.
Consequently, December 2nd was circled on ESPN's calendar immediately. What's going to happen when LeBron comes back? Even though security was beefed up and various precautionary measures were taken, they were praying for something that would humble The Malace in the Palace. And if there was no physical confrontation, the crowd emotionally crucified him the entire game. It didn't matter that their team allowed LeBron to score 38 on them as the Heat thumped them. It probably wouldn't have mattered had they won. Their real goal was to make sure LeBron knew they hated him.
I like sports rivalries. I like sports fans getting into it with their signs, shirts, and trash-talk.  And I think for millions of fans, these types of things are fun distractions and I am grateful for  things like sports and entertainment and silly escapes. The problem becomes when we see  these trivial things as important and we live our lives in a superficial bubble that shields from  the sufferings around us.  And I think that's what sunk in to me last night – they really  do hate  him, more than Philly hated McNabb. Had you told me Cavs owner Dan Gilbert had  local  churches praying the Heat's plane would crash on their return home, it would not have  surprised me. In fact,  it  may not be an exaggeration to believe that the fans of  Cleveland hate LeBron  more  than Christians hate Judas because I am now  wondering if they loved him more  than Christians love Jesus.
I'm ok with sports fans seeing their favorite athletes as "sports messiahs", but it's clear that he  was so much more than that. Frankly, I am not as troubled as others regarding the role  entertainment plays in our lives. I dismiss them as the opiate of the masses. And unless you are a real Philadelphia sports fan, most people see sports, movies, television as a means of escape. My problem has always been when the escape becomes mistaken for the path of life and last night's celebrity crucifixion.
Now if you will pardon me, it's my turn to lead the vigil for Jeter to sign back with the Yankees.