Uh oh.  I just took three sacred things, college football, politics in a coming election year and our faith and mashed them together.  Well, it's probably a good thing.
A few "cut to the chase" thoughts here.It doesn't matter to me if you like Tim Tebow or not.I am not trying to persuade you of who to vote for (or not vote for).  And in all honesty, I am quite a while from making up my mind.This post is concerned with the inconsistencies I see within the evangelical culture in whom we choose to pour our love over, whom we reject and our motivations.
I happen to like Tim Tebow, though I couldn't care less about the Gators and have a hard time keeping up with college football (but I love the highlights).  Even more importantly, my father-in-law is a huge Gators fan, so Tebow gives us something to talk about.  What I do find surprising is that so many people have been talking about Tebow for years – he's quite the figure.
Now, I'll admit, initially I was a bit suspicious of Tebow's outspoken Christian faith.  My suspicion was further fueled by the media's love for him – "He must be their type of Christian."  As time went on, I was quite amazed by Tebow's public persona.  He seems to me very genuine and I find myself not only respecting him, but concerned for him and every so often, I include him in my prayers.  It's clear that many cannot wait for him to fail and by fail I mean morally and that's regrettable.
I often wonder if Tebow wasn't an outspoken Christian, would he be as popular?  Would he be as popular to Christians?  It's safe to say that he wouldn't be, right?  Would he more appealing to those that currently disdain him if he had a few DUI's and was as womanizing as others in professional sports?  Popularity brings many things, fans, endorsements, cameos, beautiful girlfriends/boyfriends, book contracts and many critics/detractors/enemies  Celebrity is a strange thing you know.
The interesting thing to me is that Tebow is becoming part of the culture war and this is not a fair thing to him.  Christians are upset that people hate him because of his faith and they're responding by being even more zealously in love with him and propping him higher on the cultural stage.  With that will come a world of expectation on him and these things usually don't turn out well for the person in Tebow's position. Undoubtedly, there will be a Tim Tebow controversy playing all over Sportscenter and cable news and it will have nothing to do with his on the field performance.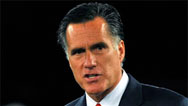 Enter Mitt Romney.  He's the GOP frontrunner.  If he was smart, he'd let Tim Tebow baptize him in the Mississippi and make him his running mate. (John McCain is thinking, "Now you tell me.")  The funny thing is that some Christians don't like Romney because he's Mormon.  There was a pastor in a big church inTexas who said that was quite outspoken against Romney's convictions.  Now from one pastor responding to another, I'd say that there are better ways of promoting your candidate of choice and it came across as an attack. It's generally not good rhetoric that we dismiss candidates based soley on their religious beliefs.  And for the sake of this post, most of us find it unfair that many do so with people like, in this case, Tim Tebow.
Back to Romney, while all of us of have every right to prefer another candidate that better represents him/her, I'd like to encourage fellow believers to be responsible in their thinking and dialoguing.  I am personally not sure who the best candidate is for our country and currently unsure of who best represents me.  I do think it's irresponsible to reject the Romney-types based solely on their faith.  It implies that one who would have voted for him had he checked the right box, had he been "their type of Christian".  One issue voting is a dangerous thing.
Make no mistake, I believe faith plays a central role in someone's life and if they claim to be "nominal" of a particular type of faith, I tend to see that as a humanistic type of faith (like faith in us humans which is a terrible "religion" in my opinion).  But I'm not sure I can reject Romney based on his faith until I see how if affects him.  This reminds me of Bill Clinton's Bible and his knowledge of Scripture. He could probably walk into a pulpit with his Christian vocabulary and speaking talent and impress many congregations. And while I'd like to think he has grown for the better over the years, the point remains, checking the "Christian box" is a tricky thing.
As the Tim Tebows and the Mitt Romneys pass through our cultural landscape, let us be careful that we not objectify them on the basis of their faith and be careful to not assign their worth to us by because they are not our type of believer.
You are more than welcome to push back, offer clarity and insight – thanks for reading!