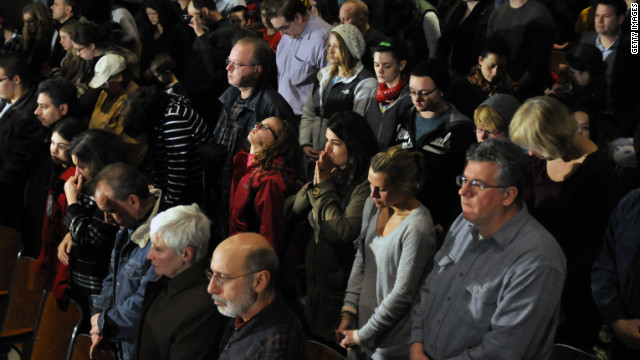 A few days ago, news broke about a Lutheran pastor who participated in an interfaith Newtown prayer service and forced to apologize.
Here's an exert:
"Lutheran pastor in Newtown, Conn., has apologized after being reprimanded for participating in an interfaith vigil following the shooting massacre at Sandy Hook Elementary School.The Rev. Rob Morris, pastor of Christ the King Lutheran Church, prayed at the vigil the Sunday following the Dec. 14, 2012, shootings alongside other Christian, Muslim, Jewish and Baha'i clergy. Morris' church is a member of the Lutheran Church–Missouri Synod (LCMS), and the denomination's constitution prohibits ministers from participating in services with members of different faiths…"
You can read the rest here.
I saw the headline flash through my twitter feed  earlier in the week and didn't click because I knew I'd find it frustrating. Upon seeing the word "interfaith," I was afraid he was forced to apologize because of some old-school denominational hangup but it kept getting RT, then Huffington Post picked it up, then it was posted on the CNN Belief site and became convinced that I should read it. I loathe that these are the Church stories that get picked up and circulated across news feeds and social media..
Before I clicked, I considered perhaps there was some type of a scandal, maybe the pastor physically abused the other leaders at the interfaith service, maybe someone found a picture of him and Louie Giglio eating at Chick-Fil-A together … 20 years ago. Maybe it was discovered that he wasn't really Lutheran.
Well he may want to rethink the goodness of being a Lutheran (at least of the Lutheran Church Missouri Synod stripe) because it looked like my initial suspicion was right the first time.
Obviously, I'm irritated. We worship the same God in Christ and are led by the same Holy Spirit. We read/preach/practice from the same Holy Scriptures and are part of the same Church that transcends denominational lines, creeds, constitutions, and policy handbooks but as a member of the Church, I am concerned about what the message of the LCMS forcing the Newtown pastor to apologize sends out:
1. It's illogical.
The synod is afraid of "appearing to endorse other religions" which only demonstrates just how far out of touch with the cultural landscape they are. It's almost comical … you know since it's called an "interfaith prayer vigil." It's the "interfaith" adjective that says we have gathered not because we have common doctrine but we have a common objective here – to mourn, to seek comfort and hope as we pray together.
Those that had gathered at the interfaith vigil would have known the Lutherans were are not endorsing other religions because they have identified themselves by a different moniker – "Lutheran." Now the LCMS may think that's a stretch so we should test this:
Representatives of the local Jewish synagogue, a Muslim mosque and the Baha'i temple were also in attendance at the interfaith vigil that day. Since the Lutherans were represented (as were Methodists, Congregationalists, a non-denominational church and several others) are we to assume that perhaps the synagogue has now endorsed Christianity and is now in the process of adding the New Testament to their teachings? Was the Lutheran benediction so compelling that the local mosque has placed a cross above its minbar (the pulpit) and the Baha'i have removed Moses, Mohammed, Buddha, Krishna and thereby leaving Jesus alone has their exclusive "messenger"?
OR is it more likely that all these people/places of faith participated in the interfaith vigil to represent their faith community and be a presence that included?
As the Synod might know, the President was also in attendance. What if no other faiths were represented, would the Lutheran pastor still have been allowed to be there? If so, does this mean the LCMS  endorses the President and the Democratic Party platform? Do you see where this nonsense is headed?
2. It also reveals just how out of touch denominationalism can be and reeks of a "holier than thou attitude." 
Exerted from the aforementioned link:
"LCMS president Matthew Harrison wrote in a letter to the Synod that "the presence of prayers and religious readings" made the Newtown vigil joint worship—and therefore off-limits to Missouri Synod ministers. Harrison said Morris' participation also offended members of the denomination."
Their concern should not being invited to an interfaith service but rather, NOT being invited to a community moment of such magnitude?
Consider what this says to the community of Newtown. "It was a mistake for us to be there because of the representatives of the other religions being there."
Harrison and co. will give their token condolescnces, of this "unspeakable tragedy" but they're saying they regretted  being there – in fact, people in their own camp were "offended."
I am sure Mr. Harrison is a good man but what he think is caring for the gospel of Jesus is actually hindering it. I was born and raised in the Northeast – and what New Englanders are hearing Mr. Harrison say is, "We're a backwards cult from St. Louis."
(The same Synod did this following the 9/11 vigil too with a pastor named David Benke, even suspending him until he was reinstated in 2003 – bizarre.)
3. It's un-Christian. It's even embarrassing to the namesake of your denomination – Martin Luther!
The nature of Jesus was to be there in the thick of the hurt and in the trenches of pain. Likely the LCMS would predictably continue to miss the point and say something like "We can still be there, just not with representatives of other religions" but that's the thing – you have to be there. It's the very nature of incarnational living.
You thought Lady Gaga had a ridiculous backstage rider, imagine should the LCMS put one together – "We want sanctified drinking water blessed by Martin Luther and no one from any other religion or differing ideology in our presence." If you're the guy who has to fill out the rider, you should get on a plane to Wittenberg to find that Lutheran holy water (or beer as the great reformer would have called it) because you have no chance at fulfilling the second part.
Imagine God Himself using the same logic, "I wish I could become incarnate and offer redemption to dying and evil-filled world … but the Jews are all over Jerusalem. It would be very confusing for the common folk – better say here in my celestial bubble, Missouri, umm, I mean Heaven."
The story of Jesus teaches us to be there regardless. We are to be light in darkness, to offer hope in despair, to bring healing, your compassion, even your shared grief for the good of others.
If the Newtown Pastor, Robert Morris, was a friend of mine, I'd tell him to get out of Lutheranism while he still could. Forget about the ordination, forget about the pension, forget about this appointment. Seriously. And if you are considering remaining a Lutheran, explore the less fundamentalist option – the Evangelical Lutheran Church in America. The ELCA has exhibited denominationalism not at its worst but at its most embarrassing.
I should mentioned that having the LCMS centralized in a Mid-West/Southern state won't help. I know that sounds like a Northeasterner's snobbery but I am not talking about education and culture. Rather this is what I mean – When the leaders of your denomination all function in the Red State, Bible Belt of America, the understanding of plurality and multiculturalism are foreign to you. That's why a "interfaith" is such scary word to them – even in the context of prayer vigil after a terrible tragedy.
In the scheme of things, I too am a conservative evangelical pastor who takes the message of Jesus as serious as one can. And that's why this matters to me: Christians cannot keep separating themselves from cultural moments for absurd reasons. You want to save a hurting world and offer the hope and salvation of Christ? Well show up, be a part of the conversation, be a presence in the community, offer your shoulder to cry on and offer a hand. And if you can't, don't force the ones that do to apologize for serving and praying for others.